Review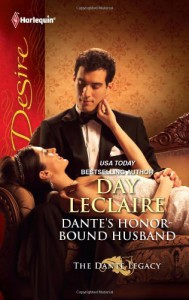 Read this review on my blog! -->
Dante's Honor-Bound Husband by Day LeClaire
Last book for the Dante family and this one is Gianna love. She's the baby girl protected by all the male, brothers and cousins, so you can see how hard it is to actually introduce some new boyfriend to the family, but things were a little different when we discovered that Constantine was her Inferno chosen, we first met him in Dante Contract Marriage, he's Ariana brother and we followed how important in was for him to achieve success in business.
After months separated Gianna thought Constantine didn't want her and started a new relationship with the wrong guy, plus we got to see more from both Constantine and this new guy, they have some secrets from the past, nothing good.
I liked how this couple handled things, but Constantine acted in very bad ways some moments, but he's kinda perfect and just wanted some money to provide her and create anew family.
Also the end lead us to believe that a new Dante will have a book, now just wait and see.